Burr Engineering & Development
A Series Linear Actuators
A-Series Actuators are Burr Engineering's most powerful systems for demanding applications. This line provides dynamic capacities to 3000 pounds with static loading to 5000 pounds and is designed with either round 2.25" tubing or square 2.5" tubing. Gear ratios of 34:1 and 110:1 may be combined with acme screw posts.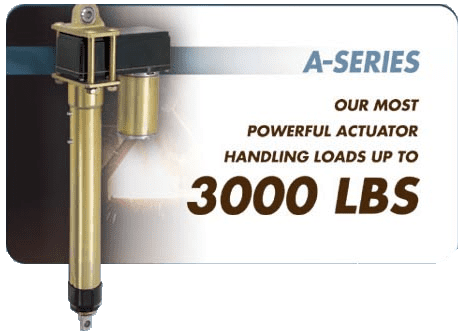 Features
Handles Loads Up To 3,000 Lbs.
Click here to download a PDF Brochure for the A Series Actuators.
12, 24 or 36 Volt DC
110 or 220 Volt AC
Standard Strokes to 18" with Longer Lengths Available
Die-cast Aluminum Powerheads
Factory Set Torque Limiters
.75-6 Acme Screw
Zinc Plated Inner and Outer Tubes
Capacities to 3000 lbs.
Static Load 5000 lbs.
34:1 and 110:1 Gear Ratios